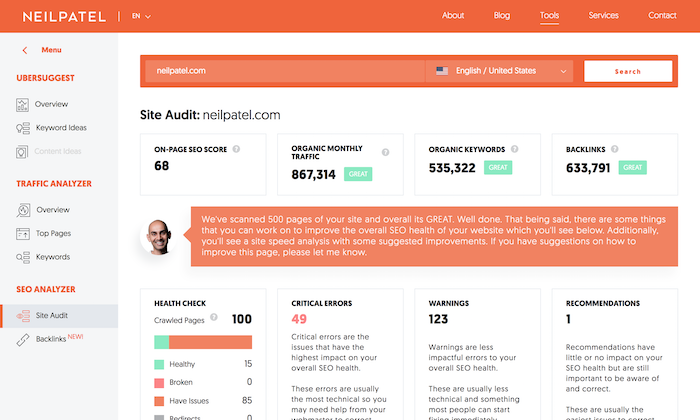 They say there are over 200 ranking factors in Google's algorithm.
But are you going to take the time to optimize your site for each and every single one of them?
Well, you should… but you probably won't.
See, SEO has changed… it used to be that you could do a handful of things and rank well. Sadly, those days are gone.
Now you have to do every little thing and do it well to dominate Google.
So, I decided to make your job easier and release yet another new feature in Ubersuggest that audits your website for you in less than 3 minutes.
It's called SEO Analyzer.
Introducing SEO Analyzer
If you want to find out what's wrong with your website, you won't have to do it manually anymore.
All you have to do is head over to the SEO Analyzer and put in your URL.

How SEO Analyzer works
Once you put in your URL, you'll be taken to a report that looks something like this: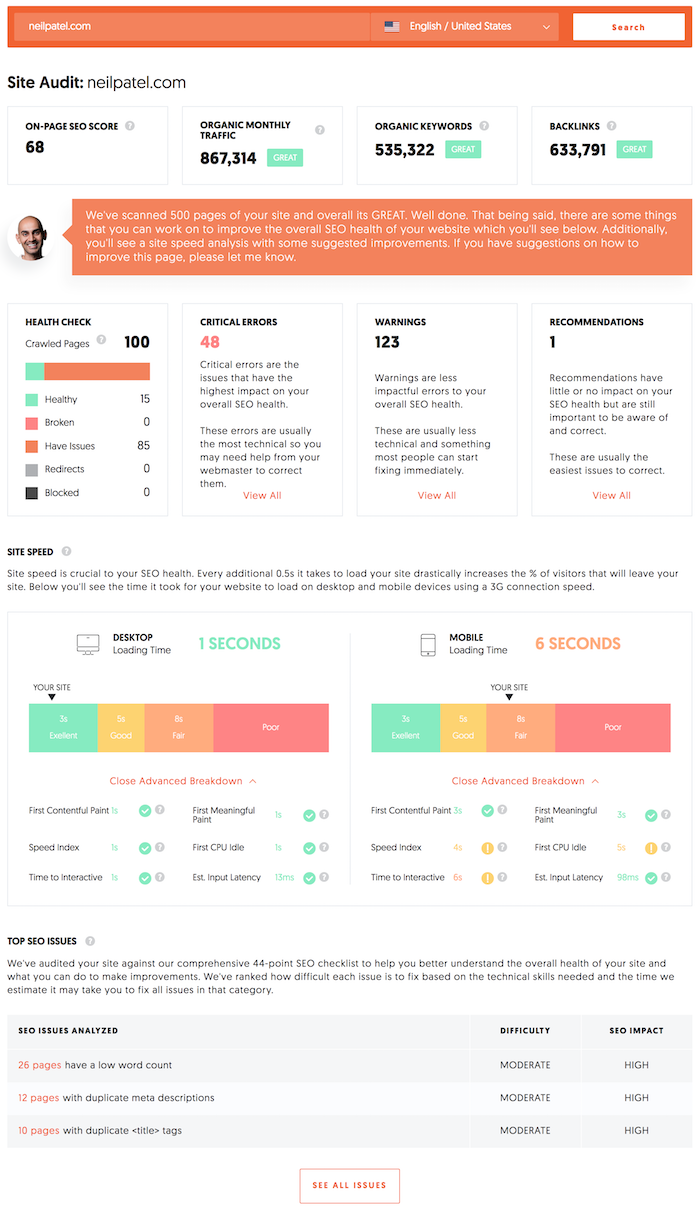 Once the report loads (it typically takes 3 minutes or less), you'll see an overview like the image above.
The overview is broken down into 3 main sections.
Overview

The first section shows you your on-page SEO score (the higher the better), your estimated search traffic, the number of keywords the domain ranks for, and how many backlinks the site has.
You'll also see a message from me that breaks down how many pages were crawled and any SEO errors that were found.
When you click on any of those 4 boxes, it will take you to a more in-depth report.
Clicking on the on-page score takes you to a page that lists out your SEO errors. It looks something like this: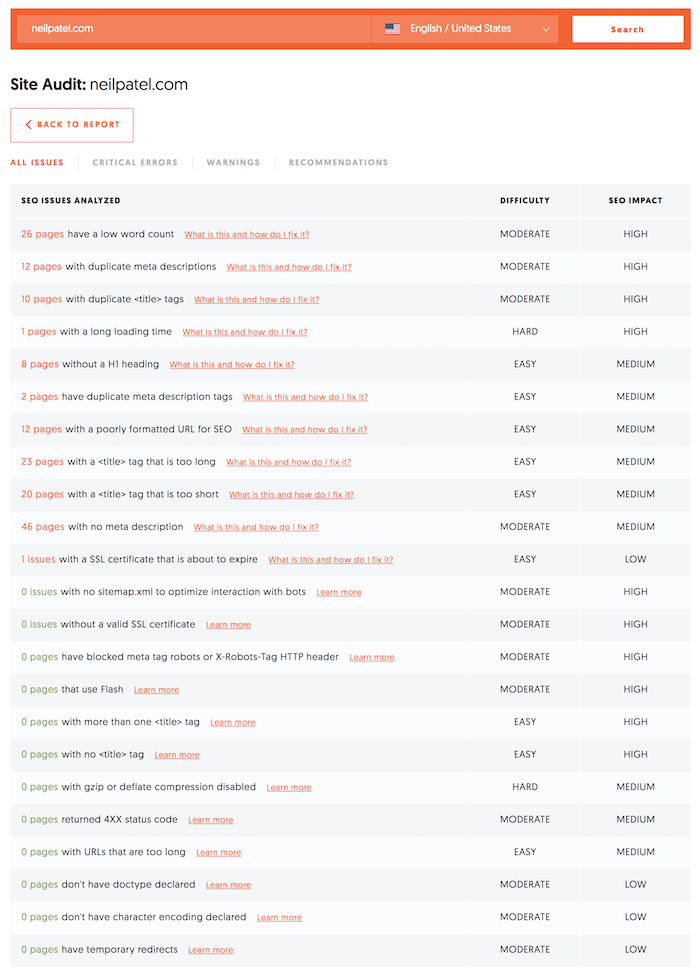 Clicking on the organic traffic takes you to a report that shows you how well your site is performing.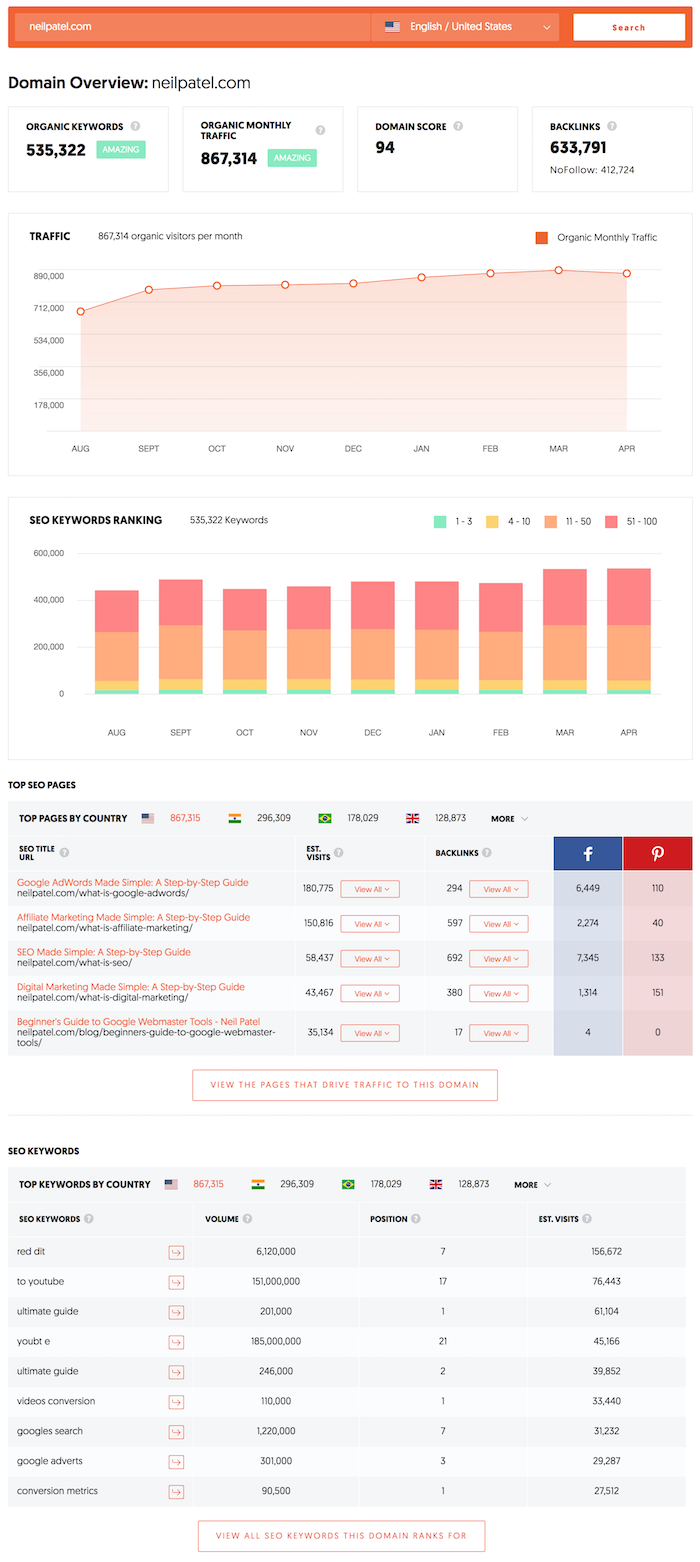 Clicking on the keywords box shows you all of the keywords your website ranks for organically.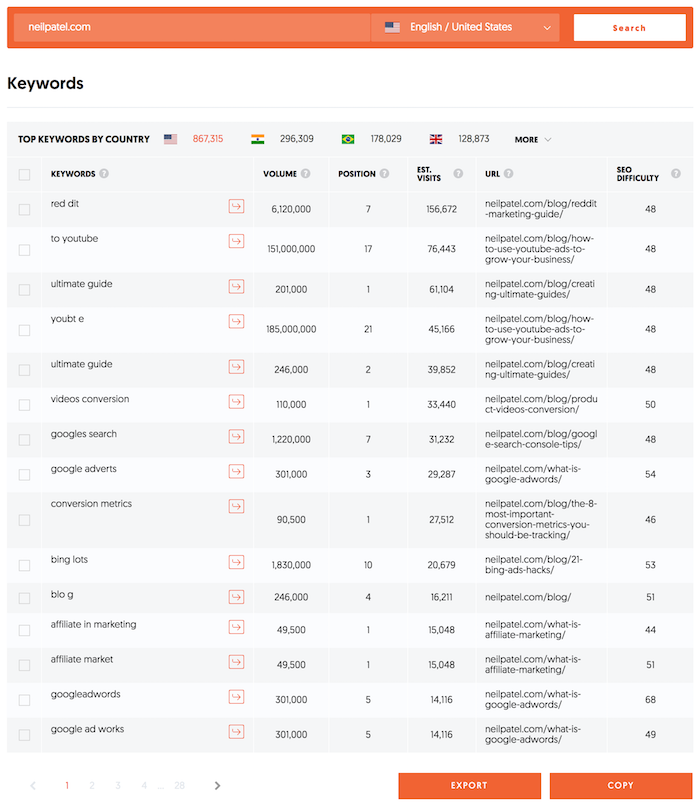 And clicking on the backlinks box shows you all of the sites linking to that domain.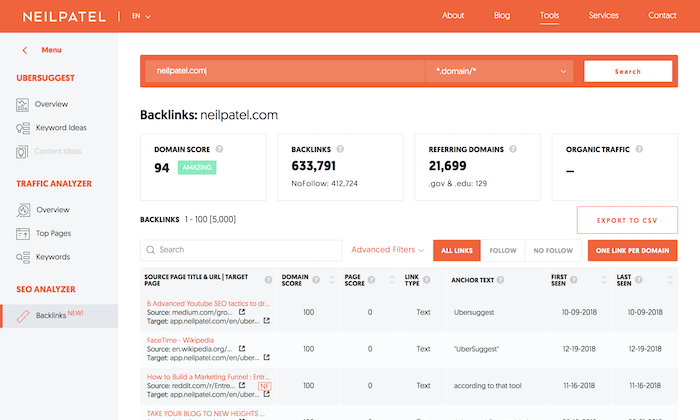 Site health
This is my favorite section of the site audit report. This is where you can really dig around and boost your rankings
You can click on any of the four site health boxes and drill down into more reports.
This is important because you'll want to first focus on clearing up any critical errors. From there, you'll want to fix any warnings and then, finally, consider doing any of the given recommendations.
The health check box gives you an overview of the healthy pages and the ones that have issues or are broken or blocked or even redirected. By clicking on this box you'll get taken to a report that lists all your SEO issues in detail.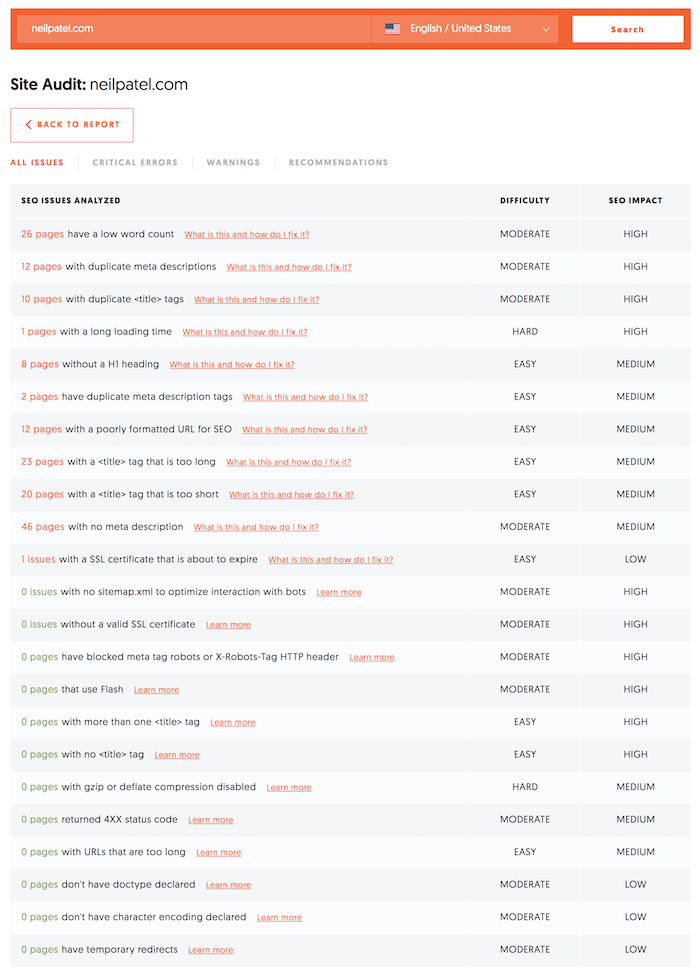 From there you can click on any of those issues and you'll be taken to the exact pages that contain any SEO errors and what they are exactly. An example of this is pages with too long of a title tag.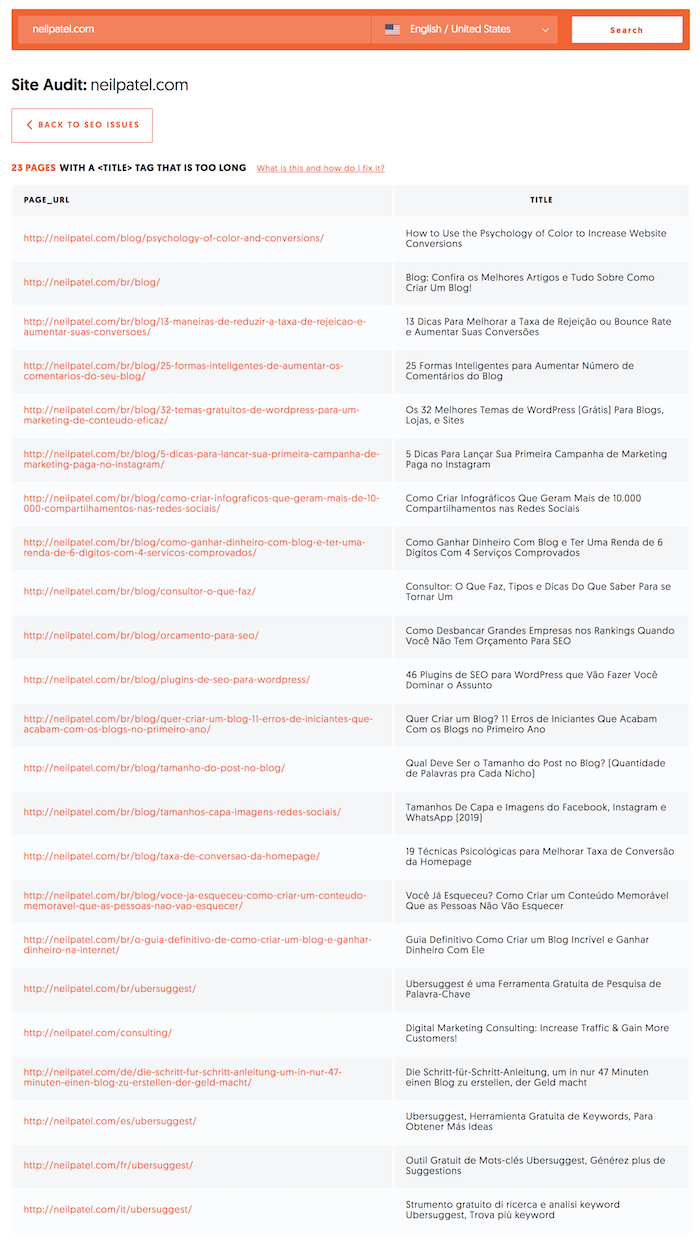 If you aren't sure on how to fix any of the issues, just click on "what is this and how do I fix it?" and a box like this will appear: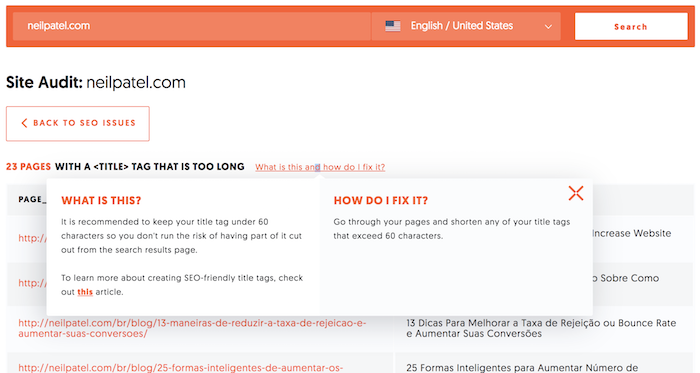 And if you click on the critical errors, warnings or recommendations boxes, you'll see reports just like the ones above. They will be broken down by how important they are.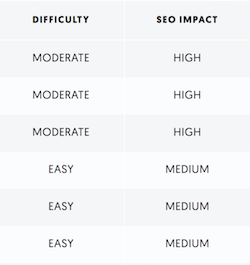 That way you'll know which fixes have the greatest SEO impact and how hard they are to implement.
You should first focus on the ones that have the highest SEO impact and are the easiest to implement. And I took the liberty to prioritize the table for you, so all you have to do is start at the top and work your way down to the bottom.
Site speed
Speed is important. Not only do faster load times help boost conversion rates, but they also help boost your search rankings.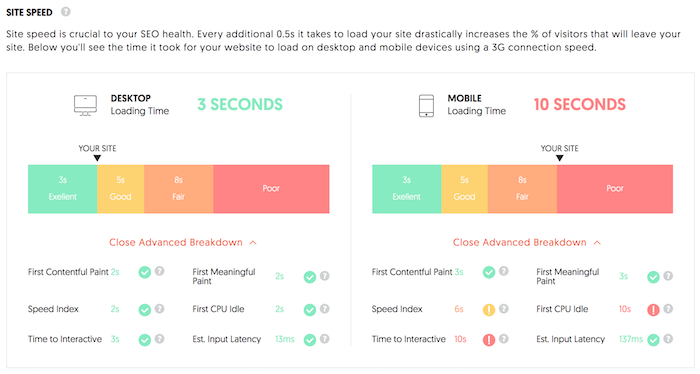 There are two sections to the site speed. The section on the left breaks down your desktop load time and the section on the right breaks down your mobile load time.
Site speed varies drastically by a person's connection and computer, but the charts give you a rough range of how fast or slow your site loads.
Your goal should be to have your site load in 3 seconds or less for both mobile and desktop.
The report even breaks down which areas are slowing down your site speed.
For example, you could have an issue with "First CPU Idle"… and if you aren't sure what that means, just hover over the question mark and the tool will tell you.

Top SEO Issues
I know I said the report has 3 main sections, but the 4th section is just repeating the site health section.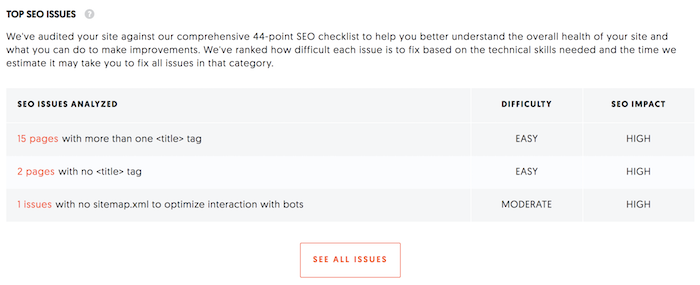 You'll see the 3 most important fixes that you should make to your site if you want higher rankings.
If you don't have the time to fix everything, start off by fixing the 3 issues listed here. Those will give you the biggest bang for your buck.
Conclusion
So, what do you think about the SEO Analyzer report? Do you think it was a good addition to Ubersuggest?
I know I haven't talked about the SEO Analyzer report much, but we've been working on it for 4 months now.
For now, the tool crawls the first 100 pages on your website, and eventually, our goal is to increase the limit to 500 or even 1,000. Technically we can do that fairly easily, but for the launch, I've capped it at 100 due to the sheer number of users I have and server load.
Give the SEO Analyzer a try and let me know what you think.
The post How to Perform a Thorough SEO Audit in Less Than 3 Minutes appeared first on Neil Patel.
from Blog – Neil Patel http://bit.ly/2XaXFo9
via
IFTTT