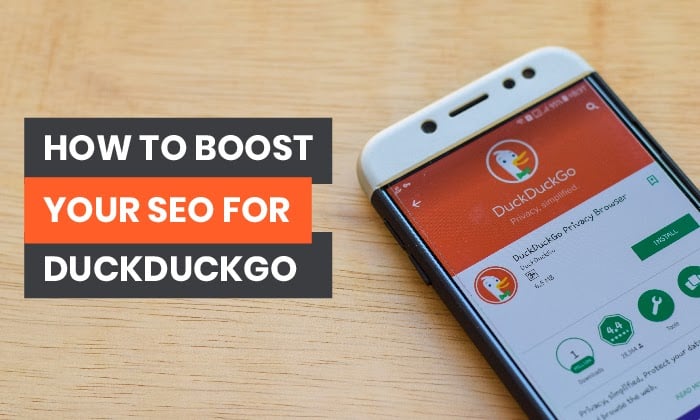 When you think about search engine optimization, there's a good chance that Google is the only search engine that comes to mind.
This assumption is a huge mistake, as the DuckDuckGo search engine has continued to gain in popularity with each passing year.
Google is just a part of the SEO puzzle. If you are only focusing on what Google wants, you could be missing a large portion of the search market who use other search engines, like DuckDuckGo and Bing.
"But," you think, "isn't SEO the same no matter what search engine you're dealing with?"
Not quite.
Here's why alternative search engines like DuckDuckGo are worth your time, and what to do if you want to rank outside of Google.
Are Alternative Search Engines like DuckDuckGo Worth the Effort?
Yes, Google is the most significant player when it comes to search engines. According to Statista, Google has a whopping 86% of the search engine market share.
But why trust only one platform when it comes to your business?
When you're dependent on just one platform, you risk isolating some of your audience. That could put your entire business at risk.
Let's say you've built your entire SEO strategy on Google and Google alone. What happens if a tiny change in the algorithm (which happens all the time) moves your site down in the rankings?
Your business could be in jeopardy.
But if you've optimized your site for alternative search engines, you're in much better shape.
I've talked at length about different ways to drive web traffic that don't focus on search engines, and I'd recommend them wholeheartedly when it comes to your strategy.
But there are also a few ways to adjust your SEO strategy to rank well in the DuckDuckGo search engine.
What is the DuckDuckGo Search Engine?
In a digital world where your searches often play directly into your targeted ads, it's no surprise people are starting to realize how much their search history affects their privacy.
DuckDuckGo is a privacy-focused search engine that doesn't track you, integrate with your social media, store your information, or use your search history to target you with ads.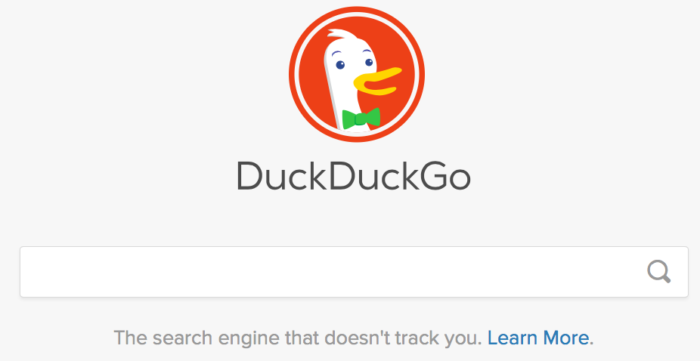 Essentially, the technology behind DuckDuckGo delivers search results while blocking the trackers other search engines (like Google) use.
You can install an extension on your browser (even Chrome), search directly from the DuckDuckGo website, or use their privacy browser app search without being tracked.
As their privacy policy will tell you, DuckDuckGo never stores personal information. Instead of gathering data to inform purchases, it's all about a simple search experience.
DuckDuckGo also aims to get you out of so-called filter bubbles, which can tailor your web search experience based on things like personal preferences and political leanings.
Who Uses DuckDuckGo?
Since DuckDuckGo doesn't track or gather information about users, it's tough to find data about who, exactly, uses the search engine.
In general, DuckDuckGo users are security conscious and interested in tech news and software. They tend to spend an average of 9.5 minutes on sites and have a much lower bounce rate.
This time indicates that, for some sites, DuckDuckGo may attract higher quality searchers.
Why Should You Care About DuckDuckGo SEO?
When it comes to search engines, several inspire name recognition. From Google to Yahoo to Bing, search engines tend to be a matter of personal user preference.
With 1.75% of the market share, DuckDuckGo is not as well known or used as Google.
But at the same time, 1.75% of the market share is still a large number of users. In comparison, the highly recognizable Yahoo brand holds just 3.41% of the market share. MSN, a huge deal in the past, is now ranking way below DuckDuckGo with just 0.11% of the market share.
So while DuckDuckGo isn't one of the top search engines, it shouldn't be discounted, either.
Since DuckDuckGo's biggest pull is that it doesn't track users, the site itself says that they're unsure how many users they have.
However, they do track search queries and reportedly see more than 56 million searches a day, and that number has been growing fast in recent years.
As mentioned above, those searchers also tend to stay on sites longer and have a lower bounce rate.
That means taking just a few steps to optimize for DuckDuckGo has the potential to attract millions of high-quality searchers.
DuckDuckGo vs. Google Search Engines
The major difference between the two search engines is that Google keeps track of things like IP addresses and search history, while DuckDuckGo doesn't.
However, there are a couple of other things to keep in mind when it comes to differences between the two search engines (and they can affect how you'll want to tailor your content for ranking).
Search engine ads: Google tailors ads based on your search history, while DuckDuckGo tailors ads based on the results you're currently viewing.
User experience: Google and DuckDuckGo aren't all that different when it comes to the user experience, as they'll both pull up websites, images, maps, news, and video results when you search.
Search results: Both search engines pull results from various players, but Google has been in the game longer, and it tends to show. DuckDuckGo still pulls quality results, but they're less intuitive than those from Google.
DuckDuckGo also puts a ton of emphasis on their ability to break past the filter bubble used by search engines like Google.
This focus means their results are based on what you're searching right now, not what you've looked at in the past, possibly resulting in more accurate results for your current intent.
Doesn't Google Incognito Follow the Same Principles?
While you might think that Google Incognito is similar to DuckDuckGo, it really isn't.
With Google Incognito, all Google is doing is clearing your browser's search history. Even with Incognito turned on your device, your activity isn't necessarily private.
When you turn Google Incognito on, you'll see a disclaimer telling you that your work or school may still see your information.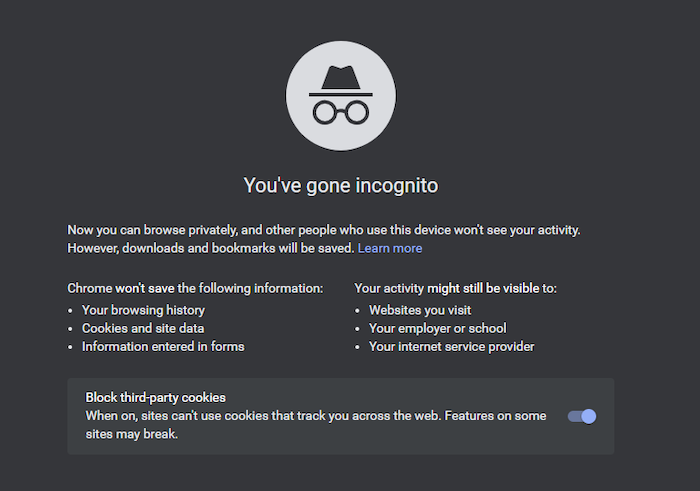 DuckDuckGo, on the other hand, doesn't record or retain any of your searches or search data.
How to Approach SEO for DuckDuckGo
The DuckDuckGo search engine uses over 400 sources to get results for your searches. DuckDuckGo uses crowd-sourced sites, traditional websites, and its own web crawler to look for search results.
Just like optimization for most search engines, practicing good SEO techniques will serve you well with DuckDuckGo.Quality content, intentional sourcing, and a great website are things that will always make a difference.
When approaching search engine optimization for DuckDuckGo, a few things will make the biggest difference:
A Website Built For Good User Experience
The DuckDuckGo search engine's entire purpose is to provide a tracking-free, simple, intuitive interface for people to use and trust. Therefore, it makes sense that a well-built, user-friendly, high-quality website filled with quality content, links, and backlinks will be considered a more trusted site.
Good user experience means everything for your site and your business, whether it's quick load time, an intuitive web design, or efficient site navigation.
So, what does a good user experience look like on DuckDuckGo? Here are a few tips to make sure your user experience great:
Make sure your site is easy to navigate for users on mobile and desktop devices.
Be careful with popups and other features that may frustrate users.
Use headings, bullet points, and tables to make content easy to scan.
Without a good user experience, your site will take a nosedive in the rankings.
Earn and Include High-Quality Backlinks on Your Site
Just like on Google, inserting high-quality backlinks into your content and link building,especially from sites with a high domain ranking, like the Wall Street Journal,will help your website rank.
Why does it matter? A website that has taken the care and time to insert quality backlinks will supersede one that didn't seem to care as much about link building or their backlink strategy.
DuckDuckGo offers this bit of advice on one of their Help Pages:
Ranking is a bit opaque and difficult to discern/communicate on an individual query basis because of all the various factors involved (and which change frequently).

Nevertheless, the best way to get good rankings (in pretty much all search engines) is to get links from high-quality sites.
You need to focus on adding high-quality links and earning high-quality backlinks if you want to rank well on DuckDuckGo.
The good news is Google and DuckDuckGo both consider your backlinks and links to your site as ranking factors. If you've gotten high quality links as part of your Google ranking strategy,
,you may already have a solid link profile that DuckDuckGo can take into consideration for their SERPs..
Choose Keywords With Care
Intentional keywords matter when it comes to SEO, especially when using constantly-evolving platforms like DuckDuckGo. Peppering keywords through your content is helpful, but only when it makes sense to do so.
Use tools like Ubersuggest and AnswerThePublic to look for keywords and keyword phrases that relate to your content. Use these terms in headings and throughout the text where possible.
Just like with Google, you don't want to stuff keywords in. Rather, use them naturally where it makes sense.
When you finally learn the art of weaving keywords into your content in a way that flows well and boosts quality, you're on the right track.
Make Your Location Clear
Unlike other search engines like Google, DuckDuckGo doesn't track where users are. So, it's essential to make your location clear so you can rank for location-based searches.
Including hyperlocal keywords in your content and on your site is necessary if you want to show up in their search results. (And you should do this anyway. Even Google users don't want to have to dig for your address.)
For instance, DuckDuckGo isn't going to pull as accurate results from a query like "best marketing agencies near me."
Here's the results from DuckDuckGo for that exact result: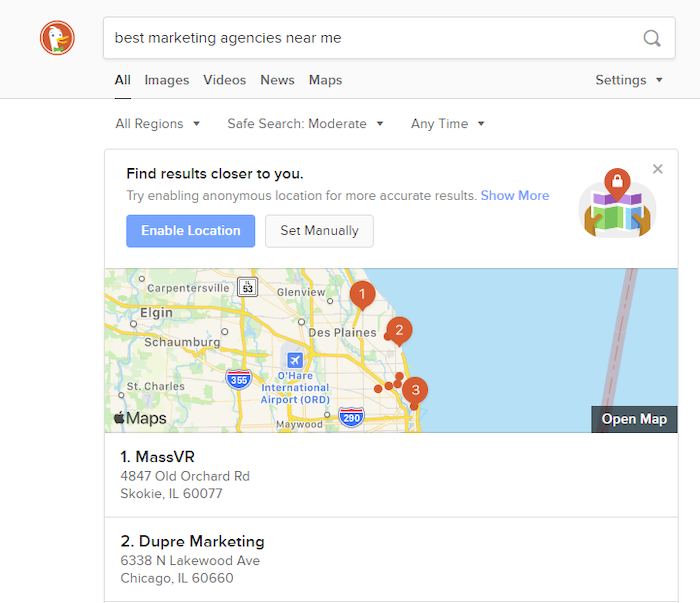 They got the general area right, but not exactly. Google, on the other hand, hits it right on the nose: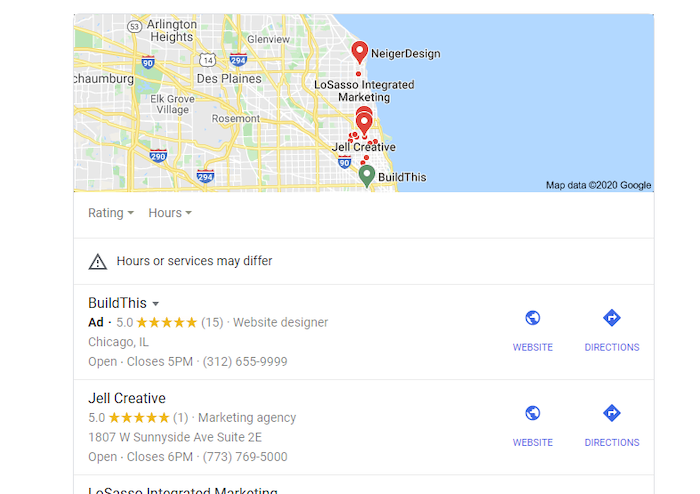 This might seem like a flaw in DuckDuckGo's algorithm, but it's actually what customers want. hey don't want search engines that track them.
Just keep in mind that DuckDuckGo is not quite as accurate for those "near me" searches. They will, however, show accurate search results from queries like "marketing agencies Dallas Fort Worth" or "marketing downtown Dallas."
Local businesses should research location-specific key terms. For example, including the neighborhood, city area, and even area code in your content can help your site rank in local search on DuckDuckGo.
Focus Elsewhere, Too
Since DuckDuckGo uses over 400 other sources for its search results, make sure your site is fully optimized for those other sources, too.
The DuckDuckGo crawler finds sites and indexes them by itself, but other sites, like Yahoo, for instance, will allow you to submit your site URL to them directly.
Since you can't submit your URL to DuckDuckGo, you need to make sure you're visible elsewhere on the web if you want to rank well. You need to have content relevant sites like AskDifferent, Urban Dictionary, and Word of the Day if you want to rank well on DuckDuckGo.
Conclusion
When it comes to being successful in business, you've probably heard the same advice over and over: don't ever rely on one stream of income, one method of business, or one way of getting things done.
That advice goes for optimizing your site, too. While there are big players when it comes to search engines,like the ever-present Google,the big players aren't the only players. When it comes to other search engines, like DuckDuckGo, you could be losing streams of revenue by only optimizing for Google.
On another note, SEO is fairly simple once you get the hang of it, and it continues to drive results. No search engines are completely reinventing the wheel when it comes to SEO, and that includes DuckDuckGo. You might just see some new, impressive growth by making a couple of tweaks and expanding your search engine worldview.
Have you been focusing on optimizing your site for alternative search engines like DuckDuckGo? Let us know in the comments!
The post How to Boost Your SEO on DuckDuckGo appeared first on Neil Patel.
from Blog – Neil Patel https://ift.tt/340LxLg
via
IFTTT