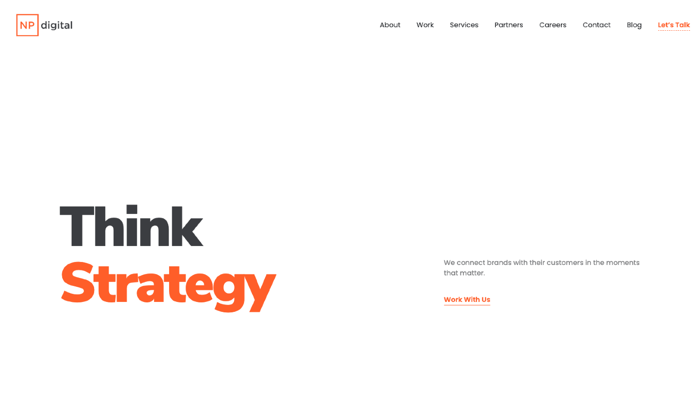 According to a recent survey from the DMEXCO, 70 percent of executives worldwide expect the pandemic to accelerate the pace of digital strategy. In the past, businesses had more time to plan and prepare.
That's no longer the case.
Today, businesses are expected to outline, plan, implement the digital strategy in a matter of days or weeks. The market is moving at an accelerated pace; many businesses find they're unable to keep up. If you can't keep up, does that mean you'll be left behind?
Not if you have the right digital strategy agency.
With the right agency, you'll be able to adapt to rapidly changing circumstances and events. Here are some steps you can take to find and vet the right agency.
Know your goals and desired outcomes
Identifying your digital strategy is the key to long-term growth.
Your digital strategy is about setting goals and objectives. It's a high-level overview that defines where you are now, outlines where you'd like to go (as an organization), and how you'll get there. It's a long(er) term plan that sets a course or destination for you to follow before starting your journey.
You're going to need a list of:
Goals, KPIs, and objectives: For example, you could focus your attention on generating a specific number of leads, customers, or revenue. You're running a SaaS business, focus your attention on reducing churn and increasing MRR.
Target audience members: It would be best if you had a clear idea of the specific customer segments you're looking to target. Your agency should help you with the demographics, psychographics, and ethnographics if you need help clarifying your audience.
Customer hangouts: You'll want to identify your customer hangouts and the places online where your customers spend their time. This will help you identify potential partners, advertising opportunities, and strategic alliances you can use to grow.
Obstacles and challenges: You'll want to outline the list of barriers and challenges that may prevent you from achieving the goals and objectives you've listed above.
Competitors and key players: You'll want to identify your competitors and their strengths and weaknesses. This reduces direct competition, making it easier for you to attract customers based on your strengths and the areas you perform best.
Strengths and weaknesses: Point out the areas where you have an advantage in your market or where you're most vulnerable. Your agency should be able to provide you with options to address each of these, so you're able to outperform your competitors.
If you have clear answers to these questions, it's easier for your agency to supply you with the strategy you need to be effective.
3 Characteristics That Make a Great Agency
Great agencies have a few characteristics in common. They're able to focus their attention on the details that matter to your company and your customers.
1. They ask probing questions
Your agency can't create the right digital strategy for your company if they don't have the answers they need. A great agency asks probing questions that may seem simple, dumb, or unimportant at first. You want your agency to ask these questions because these questions help them to develop an in-depth understanding of your business.
Here are a few examples.
What are your current benchmarks?
What are your goals and objectives for your business overall? For each segment?
Which KPIs or metrics are you using to measure performance?
What do customers expect from your business?
Where do your customers spend their time online?
Which marketing channels work best to attract customers?
What tactics should we use to achieve our goals and objectives?
Questions form the basis of your digital strategy; your digital strategy shows you where you are now, tells you where you're going, and how to get there. Good digital marketing agencies should be asking these questions at the beginning of the engagement process.
2. Ask your agency to give their strategy away
Your agency should be willing to share bits and pieces, showing you what a cohesive strategy could look like for you. This is important because it gives you several data points you can use to evaluate their work. This doesn't mean that you should expect your agency to work for free; it just means they're willing to demonstrate their skills.

Your agency can share this with you in several ways, over the phone, in your proposal or quote, or a case study. You're looking for them to share pieces of their proposed digital strategy or examples from previous campaigns they've implemented for other clients.
Request performance data from your agency
Use performance data to evaluate their performance
Pay attention to the campaign elements they prioritize consistently
Look for knowledge gaps, holes in their strategy, or weak points
Discuss the details you've noticed with them during the interview process
Another option would be to pick one part of your business (e.g., content or advertising) and ask your agency how they'd build a strategy to accommodate one specific goal (i.e., how would you increase sales for my worst performing products using content marketing?).
3. Your agency knows how to implement
Digital strategy is important, but it's not as important as the ability to execute that strategy. A great strategy isn't enough. Your agency should have the experience, skill sets, and team you need to implement your digital strategy and produce the results you need to grow.
You're looking for three things.
An agency that can create a comprehensive digital strategy that works with your existing marketing plan
An agency that knows how to implement your digital strategy successfully
A proven track record showing that they've achieved this for other clients in the past
Your agency should provide you all three of these, and they should be able to provide you with evidence showing that they offered other clients these as well.
How to Work with a Digital Strategy Agency
As you'd expect with any other agency, you'll want to see a list of samples, references, case studies, and reviews showing that they're legitimate and competent.
Ask your clients to provide you with a list of milestones and campaign deliverables. You're looking for a clear timeline that projects how long everything will take to implement, and when they anticipate, you'll begin seeing results. Your plan should include details on:
Media advertising: This includes commercials on tv or streaming services, as well as app, radio, podcasting, and sponsorship spots. This won't be relevant for some, but it's still something your agency should be able to support if you need it.
Public relations: What will your agency do to generate press for your business? What strategies will they use to increase visibility and publicity for your business?
Digital marketing: This encompasses everything from local search, organic search engine optimization, content marketing, advertising,
Direct response: This can include tactics like geofencing or hyperlocal print advertising; it's a direct response option that's designed to integrate with your overall strategy. This is especially important for local businesses that operate in a specific market.
Partnerships: These partnerships can include tactics like JV partnerships, strategic alliances, or channel partnerships. These pieces are essential and should be an important part of your digital strategy.
Your agency should be able to show you how they plan on approaching your campaign or project. Ask them to break down the approach that goes into their strategy documents; this document should clarify how they'll approach your campaign, what you should expect, what their goals are, and more.
You'll want to provide your agency with the following:
Agreements. It's common sense, but it's also something many clients ignore. Take some time to look over their agreement; look for red flags and trouble spots with legal before you sign.
Brand content. Gather all of your content, brochures, flyers, guides, promos, images, logos, style guides, and marketing materials for your agency.
Photos. Give your agency access to all relevant photography — company photos, portraits/photos of key people, office space, location, general and event photos, etc.).
Accolades. Make a list of the social proof your company has — awards, recognition, testimonials, praise, positive reviews, or feedback you've received. Give your agency with the assets and resources needed if they ask.
The digital strategy company you choose will provide you with a list of items they need and the options you need to implement their plan successfully.
How to Find the Right Digital Strategy Agency For You
You can use directories like Clutch.co, HubSpot Agency Directory, or Sortlist to find the right digital strategy agency that's best for you. Here's a list of some of the best in the industry. You can go through the traditional RFP process or you can simply request a quote.
The 6 Top Digital Strategy Agencies
Here's a list of six of the top digital strategy agencies online.
1. Neil Patel Digital — Best For Content Marketing & Digital Strategy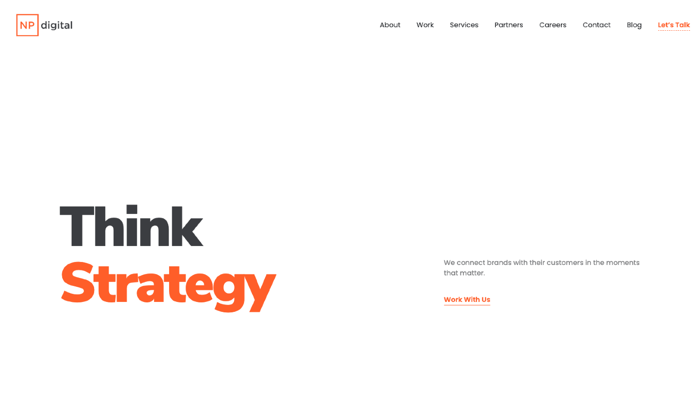 I've created more than 4,294 blog posts in 10 years. I've written millions of words, and I've used content marketing to build three companies of my own generating 195,013 visitors a month. I did the same things for large fortune 500 clients; now I can do that for your business too.
2. REQ – Best for Enterprise Business Strategy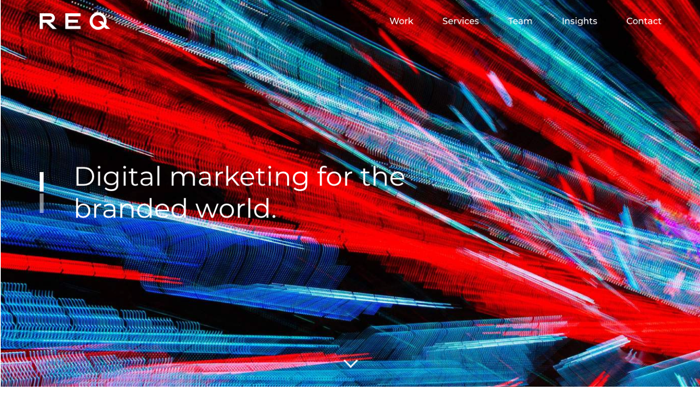 REQ is an award-winning agency with enterprise-level expertise. They're industry veterans with some of the best talents in the business. They're part of the Inc.500 and Deloitte Fast 500 lists – they're one of the fastest-growing companies in America.
3. Usman Group – Best for Mid-market Business Strategy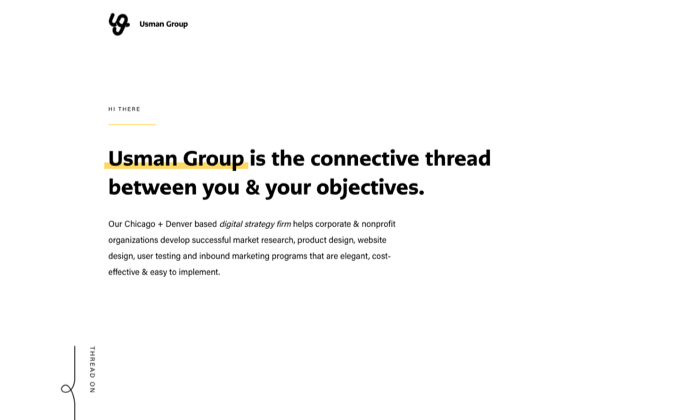 With 80% of its clients in the mid-market range, earning between 10M – 1B, the Usman Group, specializes in digital strategy and market research. Their agency is oriented around design thinking; they produce projects that are evidence-driven, practical, and focused on research.
4. DeSantis Breindel – Best for Branding Strategy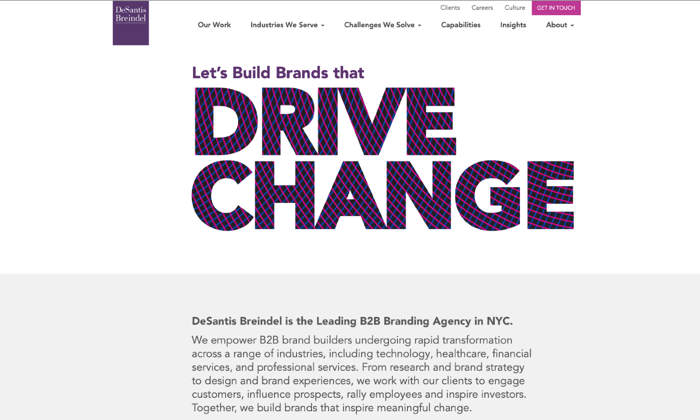 DeSantis Breindel is a digital strategy company that specializes in end-to-end branding strategy. They're focused on all things branding — they serve businesses via brand differentiation, brand valuation, brand launches, and employee engagement and more.

If your company relies on image and brand reputation, DeSantis may be a good fit.
5. Mabbly – Best for Data Analysis, Channel Strategy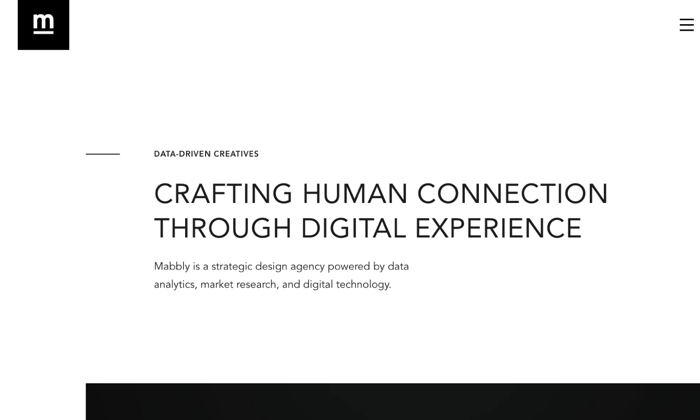 As a digital strategy firm, Mabbly emphasizes market research and data analytics. They specialize in converting large and complex problems into growth opportunities for established and up and coming brands. Their starting price is slightly higher but worth the investment if you're looking for a data-driven approach.
6. Ironpaper – Best for Small Business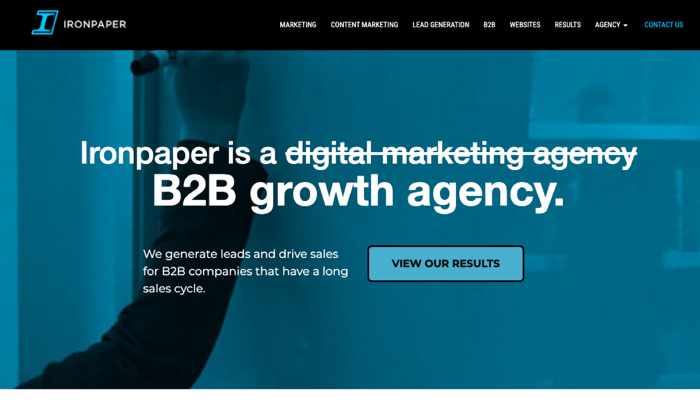 Ironpaper bills itself as a B2B growth agency. As a digital strategy firm, their conversion growth strategy focuses on gaining traction with growth up to 1 percent. The growth phase starts at 1 to 3 percent, with anything above 3 percent listed as scaling.
Conclusion
Businesses have less time to adjust; now, more than ever before, customers are expecting companies to meet their expectations and needs immediately. Digital strategies that played out over the course of one to three-year cycle now finish in a matter of days or weeks. Business is accelerating as customers move more of their business online.
Most companies will need help to keep up.
If you have the right digital strategy agency, you'll have the support you need to adapt to a rapidly changing market and events. Use this guide to find and vet the right agency for your business.
The post How to Choose The Right Digital Strategy Agency appeared first on Neil Patel.
from Blog – Neil Patel https://ift.tt/2G6QIRV
via
IFTTT